By Pass Rotameter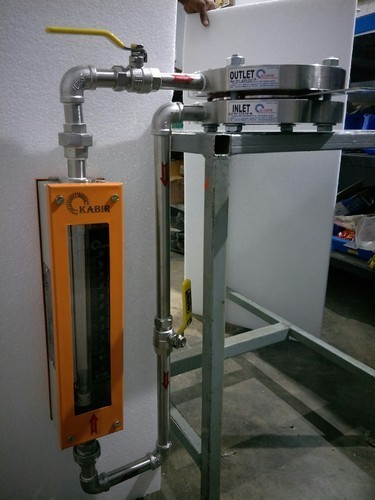 By Pass Rotameter
Product Description
Kabir Instruments and Technology Make By- pass Rotameter as designed for measurement of flow rate of Liquid and gases in 2 NB or higher Size pipe sine. The complete assembly consist of carrier rings [orifice Flanges], orifice Plate, by-pass piping with Isolation valves & a Rotameter as indicator. The orifice plate is design on IS of BS specification. These meters are selected for low cost measurement of high flow rates. It provides linear measurements of fluid in conjunction with an orifice plate in the main line. The Rotameter is modified to include a range orifice which is sized so that the flow through the meter at the maximum pressure drops across the orifice plate in necessary to lift the float to the maximum position. Hence the flow through the range orifice is proportional to the instantaneous flow through the main orifice and so the bypass Rotameter measure main line flow.
Features :-
Easy to maintain
On-line installation
Very low cost
Accuracy : + 2 % of full flow
Range ability : 7:1 of 5 : 1
Accessories : High & low flow Alarm solution
Material of Construction :- Orifice Plate : S S 316 Or PVC Or PTFE
Carrier Ring : S S 316 Or Mild Steel Or P P Or PVC
Pipe line : S S 316 Or G I (M.S) Or PVC or MSRL Wetted parts of Rota meter : S S 316 Or Mild Steel Or Rubber or - PTFE Lined Steel. Flow Ranges of water at 200 C Size Maxi Flow Rate In 50 NB 20 M3/Hr 80 NB 36 M3/Hr 100 NB 115 M3/Hr 125 NB 125 M3/Hr 150 NB 150 M3/Hr 200 NB 320 M3/Hr 250 NB 550 M3/Hr 300 NB 880 M3/Hr Data

BY PASS ROTAMETER
Wetted parts in MS, S.S. 316 polypropylene, pvt ect
Orifice plate in S.S.316, P.P Flow Direction as per your request
Flow Range 10000 LPH to on your request
Flow alarm on your request
Accuracy of + 2 % FSD.