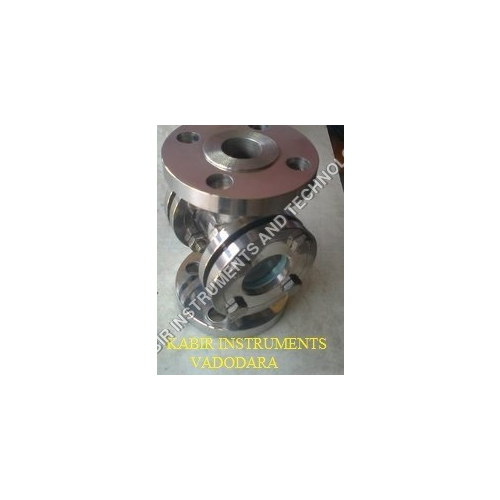 Oil Sight Glass
Product Description
Kabir Make Double Window Sight Glass Contains is having Drip Tube Type Design. Two Toughened Glasses Mounted Opposite to each other. This enables observation of the Flow. Due to Toughened Glasses, Sight Glass Can Withstand High Pressure (Max. 25 Kg / Cm²), High Temp (Maxi. 200º
C) & Full Vacuum Service.
Temperature Ratings : Maximum Operating Temperature rating is 200o C
Connections : Flanged OR Screwed OR Socket Weld or Butt Weld End Connection
Enclosure : IP 55 OR IP 65 on request
Pressure Ratings : Maximum Pressure rating is 25 Kg / Cm2
Sizes : From 15 NB to 300 mm NB.
Optional : 1. We are also manufacturing Double Window Sight Glasses with Jacket for Special
application.
2. For any Transparent liquid we can also provides Rotating blade type design.
3. For any Gas Application we can also provides Flapper type Double Window Sight
Glasses.
Body : M.S, C.S. (A–105), S.S.304, S.S.316, or MS with Rubber or PP or PVDF or PTFE lined or any other alloy.
Window : Toughened Borosilicate Glass.