Purge Acrylic Rotameter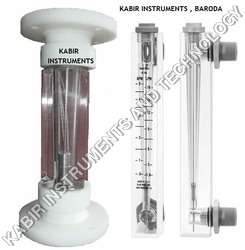 Purge Acrylic Rotameter
Product Description
"KABIR" make Acrylic Body Rotameters are mainly used for Water / Salt Water, Air, Nitrogen, Hydrogen, Natural Gas application. These are integrally machined cut in acrylic body from imported transparent acrylic blocks sheets. These are also suited with flanged or screwed connections and several options of material for the wetted parts. All our products are developed as per industry norms, using premium raw material and latest technology.
In addition to this, our products can be customized as per the specifications detailed by the customers.


Metering Tube : Solid Acrylic Block.
Body : Imported transparent acrylic block.
Wetted Parts : M.S. / S.S. / P.P. / PTFE.
End Connection : S.S. 304/316/PVC/PP/MS
Scale : Engraved on body.
Packing : Neoprene / PTFE/ Silicon.
Model : KiT/ABR
Temperature : Max 70C
Pressure : Max 15 Kg/Cm
Available sizes : 15 NB to 100 NB
Flow Ranges : 2.5 to 40,000 LPH of water at ambient temperature and 0.1 to 750 Nm/hr of air at NTP
End Connection : Screwed / Flanged / Hose Nipple
Orientation : Bottom - Top / Rear - Rear
Accuracy : + 2% of FSD
Accessories : High & low flow alarms